Iranian Renewable Energy Expert (Country Manager and COO, Silk Road Energy Technology Tehran)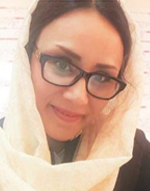 Sarah Mahdavi has been a leader in the field of renewable energies in Iran for many years. Her particular competence and experience makes her predestined to accompany international companies in the successful market penetration in Iran. She is working as an Iran key account manager for SBI Venture Business.
Her professional stations have followed the global development of the energy market, from oil and gas industry to electricity to renewable energies.
Sarah Mahdavi was a representative of the private economy in the decision-making committees of the Electricity Association of Iran, the Chamber of Commerce and the Energy Authority SUNA. For the business development of foreign companies, she has extensive knowledge and experience about specificities in Iranian law, business and politics.
Office Contact:
Unit 5, No. 20, Azadegan Blvd., West 23rd. Str., Tehran, Iran
Tel.: 00989195087311
eMail: smi@sbi-vh.com